1/8-9: Oysters at the Ace, The 4th Cask Beer Fest, Sales!
Best bets for your weekend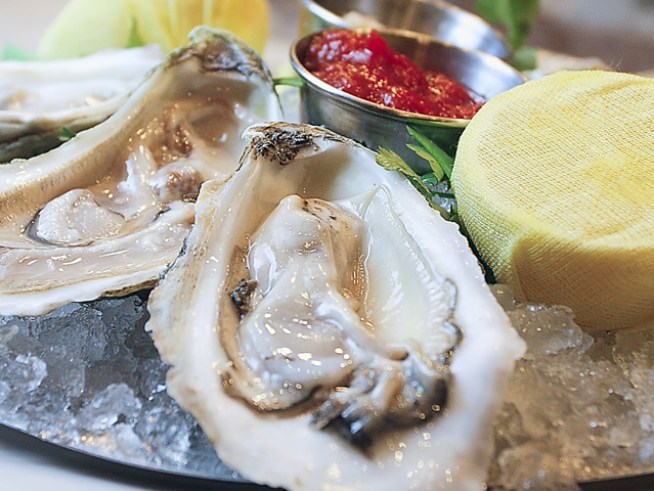 RIVA Crab House at Navy Pier's Dollar Oysters
Suggested pairing: Ferrari-Carano Fume Blanc, Sonoma
How much is it? $1 each, availabe 11 a.m.-5 p.m. in upstairs bar and dining room only.
Executive Chef Luigi Garcia says: "We are really excited about offering Dollar Oysters along with our seasonal Alaskan King Crab as part of Seafood Month at Riva Crab House. They are served on ice with a special house cocktail sauce and lemon – delicious!"
RIVA Crab House on Navy Pier, 700 E. Grand Ave., VIEW FULL MENUS
SUDS: You know that new year's resolution you made last week, about cutting down on drinking and getting fit and all that? That can wait until Monday: Starting Friday night,
d.b.a. Brooklyn
and
gotham-imbiber.com
present the 4th Annual
Williamsburg
Cask Beer Festival, all weekend long. Taste 15 of these rare brews (cask ales and lagers are made the old-school way, unfiltered, unpasteurized and sans newfangled ingredients or carbon dioxide) and talk suds with your fellow hop-heads. Friday-Sunday, starting at 1PM.
SHELL ON EARTH: The Ace Hotel is sexy. You are sexy. And a raw bar bargain (a raw bargain? hmm) is just icing on the cake. Park yourself at the newly-opened John Dory Oyster Bar and order up a half-dozen oysters or clams plus a glass of bubbly wine or a can of Snapperhead Ale for a paltry $15. This Oyster Happy Hour goes down between 5 and 7PM (or midnight and 2AM, you nighthawk) Monday through Saturday. Love. The John Dory Oyster Bar, Broadway at 29th Street; 212.792.9000.
STOCK UP: Three of our favorite sales around town right now: Get 70% off fall and winter goods at Marc Jacobs (163 Mercer). Sale prices at the city's three Scoop locations get additional reductions of 40%. And at Bird, one of the best-curated boutique chainlets in the city, fall 2010 merch from the likes of 3.1 Phillip Lim and Rachel Comey are slashed by up to 50% at all three locations. All weekend long.