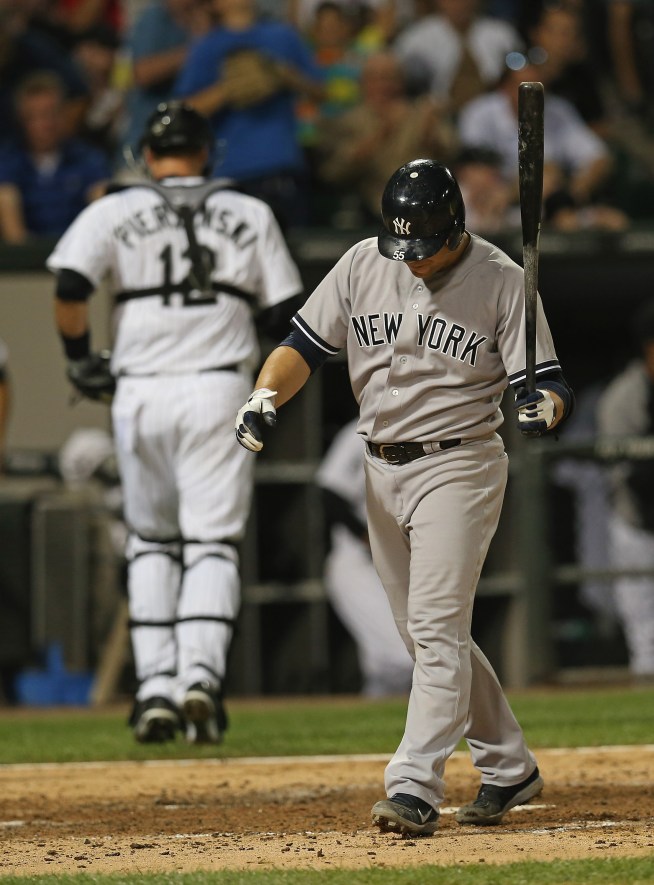 Getty Images
CHICAGO, IL - AUGUST 22: A.J. Pierzynski #12 and Alexei Ramirez #10 of the Chicago White Sox celebrate a win over the New York Yankees at U.S. Cellular Field on August 22, 2012 in Chicago, Illinois. The White Sox defeated the Yankees 2-1. (Photo by Jonathan Daniel/Getty Images)
Chris Sale struck out 13 in 7 2-3 stellar innings to get his 15th victory, Alex Rios hit a go-ahead homer and the Chicago White Sox beat the New York Yankees 2-1 on Wednesday night to complete a three-game sweep in the meeting of division leaders.
Sale (15-4) outpitched New York's Phil Hughes, allowing one walk and three hits, including Derek Jeter's solo homer in the sixth — the Yankee star's third homer in as many nights. Addison Reed worked the ninth for his 23rd save in 26 chances.
New York's loss and Tampa Bay's victory over Kansas City reduced the Yankees' lead in the AL East to three games, their smallest since before play on June 26.
The win gave the White Sox their first three-game sweep of the Yankees at home since 1991, the year U.S. Cellular Field (then known as new Comiskey Park) opened.
Jeter hit his 13th homer to tie the game 1-1 in the top of the sixth. But Rios responded in the bottom half with his 20th homer to put Chicago ahead.
Hughes (12-11) allowed five hits and two runs in seven innings with two walks and five strikeouts.
Chicago scored first for the first time in the series when Gordon Beckham doubled, Dewayne Wise reached on a bunt single and Kevin Youkilis hit a sacrifice fly in the third.