Triple Play: Best Female Gymnasts
A look back at some of the best female gymnasts in Olympic history.
Wednesday, May 16, 2012 | Updated 10:42 AM EDT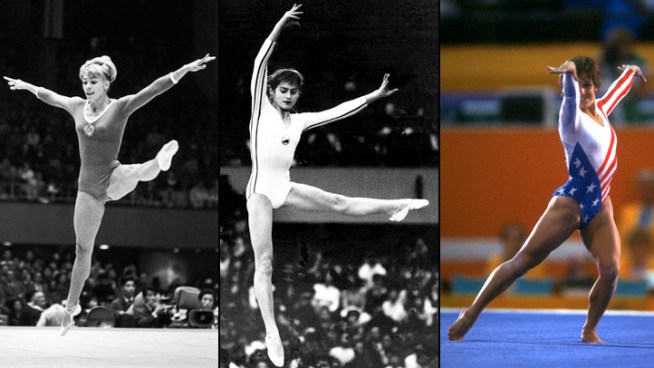 Ukrainian Larisa Latynina (left) poses in mid air at the Tokyo Olympics in 1964. Nadia Comaneci (center), from Romania, jumps and extends her leg at the 1976 Montreal Olympics. American Mary-Lou Retton properly points her toes and hands at the 1984 Los Angeles Olympic Games.
Larisa Latynina, Soviet Union: In the 1950s and '60s Latynina was one of the best gymnasts in the world, winning 18 medals — nine of them gold — over the course of three Olympic games. The feat marks her as the only woman to have won nine gold medals, and the only Olympian to have won 18 Olympic medals.
Nadia Comaneci, Romania: Comaneci reigned supreme at the 1976 Montreal Olympics. The 14-year-old gymnast was the first person to score a perfect 10, for her routine on the uneven bars. Throughout her Olympic career Comaneci scored six perfect scores, and still holds the record for being the youngest all-around gymnastics Olympic champion.
Mary-Lou Retton, United States: Retton, a five-time Olympic medalist, was the first American female to win a gold medal in gymnastics. She took home gold for the individual all-around competition, and won more medals than any other athlete competing at the 1984 Olympic Summer Games in Los Angeles.