Suffolk County Woman Pulled from Car Moments Before Train Collision
The woman's car became stuck on the railroad tracks in Bay Shore.
Tuesday, Jan 31, 2012 | Updated 10:02 AM EDT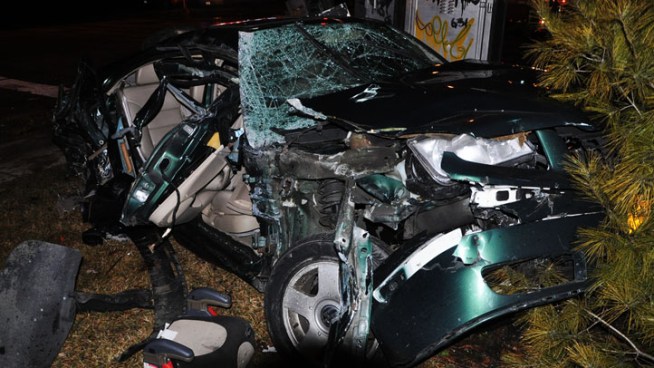 The driver of this Volkwagen Jetta was pulled out of the car moments before a LIRR train collided with it.
A woman who was driving her car while intoxicated on Long Island was rescued by police moments before her vehicle was struck by a speeding train.
The 43-year-old woman from Islandia, who has not been identified by police, was driving over the tracks on Brentwood Road in Bay Shore when her green Volkswagen Jetta became stuck.
The railroad crossing warning lights and gates were functioning normally at the time the car became stuck on the tracks.
Police say she attempted to dislodge her car from the tracks, but couldn't. Officers Christopher Palazzo and Jereme Matthews from the Suffolk County Police Department Third Precinct tried coordinating with the MTA to stop the train, but the train was too close to the vehicle.
The officers coordinated an evacuation plan for other people in the area, then quickly pulled the woman out of the car while the 4:06 p.m train bound for Montauk was speeding towards them.
The train originated from Long Island City, and about 300 people on board the train were delayed as a result of the collision.
Additional trains were delayed during cleanup. No one was injured.
The woman, who has not been identified, was arrested for DUI.