Lundqvist, Rangers Blank Devils, 3-0, Lead Series 2-1
Game 4 is Monday in New Jersey.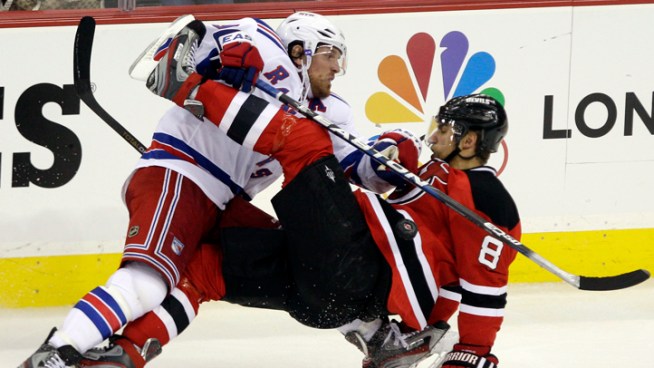 AP
New York Rangers center Brad Richards, left, collides with New Jersery Devils defenseman Dainius Zubrus, of Lithuania, during the second period of Game 3 of an NHL hockey Stanley Cup Eastern Conference final playoff series Saturday, May 19, 2012, in Newark, N.J. (AP Photo/Frank Franklin II)
Henrik Lundqvist stopped all 36 shots, and Dan Girardi, Chris Kreider and Ryan Callahan scored third-period goals to lead the New York Rangers to a 3-0 win over the New Jersey Devils in Game 3 of the Eastern Conference Finals on Saturday.
The Rangers scored two goals only 1 minute, 57 seconds apart early in the third to help them take a 2-1 series lead.
Lundqvist was busy from the opening faceoff en route to his second shutout of the series and third in the postseason. Callahan iced it with an empty-netter late in third.
Game 4 is Monday in New Jersey.
Not even playing on home ice, where they had won four straight, was enough to help New Jersey. The Rangers have won every Game 1, lost each Game 2, and rebounded to win Game 3 in every round this postseason. Each preceding series, of course, saw them win the all-important last one.
Kreider, a rookie called up during Round 1 vs. Ottawa, has scored in every game of this series.
Get the latest from NBC 4 New York anytime, anywhere. Follow us on Twitter, Facebook and Google+. Get our apps here and sign up for email newsletters here. Get breaking news delivered right to your phone -- just text NYBREAKING to 639710. For more info, text HELP. To end, text STOP. Message and data rates may apply.