Yogi Berra Released Hospital After Fall
Yankee legend said to be in "good spirits" after spring training spill.
Thursday, Mar 10, 2011 | Updated 5:42 PM EDT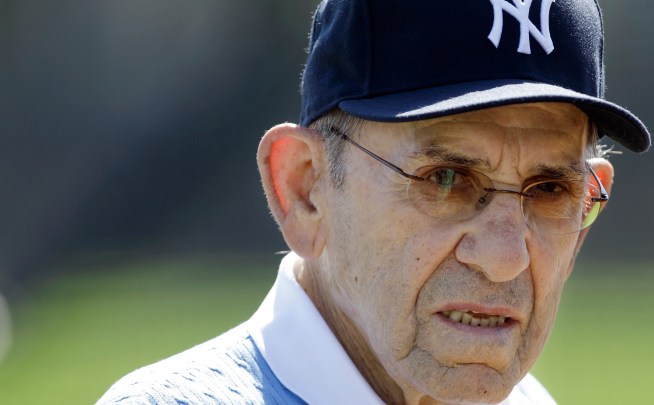 AP
New York Yankees Hall of Fame catcher Yogi Berra looks on during a Yankees baseball spring training workout Wednesday, Feb. 23, 2011, at Steinbrenner Field in Tampa, Fla. (AP Photo/Charlie Neibergall)
The New York Yankees say Yogi Berra has been released from a hospital after tripping and falling in the clubhouse before a spring training game.
The 85-year-old Hall of Famer was taken by ambulance to the hospital as a precaution around noon Thursday. The Yankees say he was released about 4 p.m.
General manager Brian Cashman said Berra caught one of his sneakers on the carpet and fell on his backside.
Cashman, manager Joe Girardi and executive Gene Michael were present as Berra left the Phillies' spring training home, where the Yankees played Philadelphia.
Paramedics in the clubhouse tended to Berra, a former catching great who is an instructor at spring training. Cashman said Berra was in "good spirits" and did not want to go to the hospital. The general manager added that Berra spoke to his wife, Carmen, before leaving.
"We're going to make sure it's going to be fine and is fine," Cashman said.
The Yankees' clubhouse and the nearby area were closed off just before 11:30 a.m. by Yankees' security officials. About 25 minutes later, Berra was placed into an ambulance, which soon left for Morton Plant Hospital.