Investigators are looking into the collapse of a scaffold that left two window washers dangling from the nation's tallest skyscraper — One World Trade Center, which opened earlier this month.
2 Rescued From Scaffold Dangling 68 Stories Off 1 WTC
Two workers were rescued after spending more than an hour dangling 68 stories high from One World Trade Center following a scaffolding malfunction Wednesday, authorities said. Jonathan Vigliotti reports. (Published Wednesday, Nov. 12, 2014)
On Wednesday, a cable suddenly developed slack, flipping a scaffold that left the workers trapped and dangling 68 stories above the street.
The men held on to the teetering platform for nearly two hours before firefighters used diamond cutters to saw through a double-layered window to pull them to safety. They were treated at a local hospital and are "doing well," according to their window washing company.
The dramatic rescue, coming a little more than a week after the nation's tallest building officially opened, was followed by throngs of New Yorkers on the ground and many more around the world watching on live TV.
Top News: Gambia, Jallikattu and More
The window washers, Juan Lizama and Juan Lopez, were working on the lower Manhattan building's south side when one of the platform's four cables abruptly gave way, Fire Commissioner Daniel Nigro said. The open-topped platform tilted sharply and swayed slightly between the 68th and 69th floors, he said.
"It suddenly went from horizontal to nearly vertical," Nigro said.
Officials haven't determined what caused the cable problem, the fire commissioner said.
It was unclear whether anything about the design of the 1,776-foot, 104-story skyscraper complicates working the window washing scaffolds, which went into service in June.
A fire department photo shot from inside the building shows the scaffold platform hanging precipitously, with the Statue of Liberty appearing tiny in the distance.
Crowds React to 1 WTC Rescue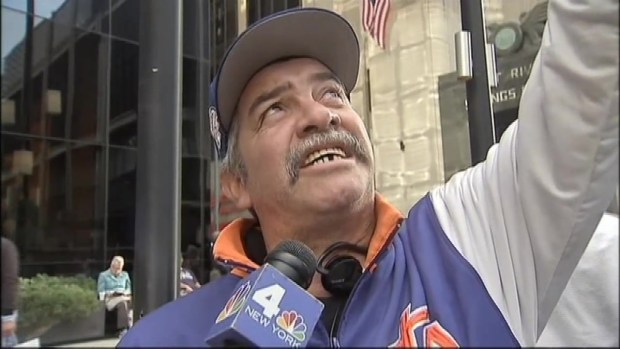 If you were in Lower Manhattan, you probably saw the incredible and scary sight of the scaffolding drama. Crowds gathered below. Some people stared, others took pictures. NBC 4 New York got their reaction on the ground. Stacey Bell reports. (Published Wednesday, Nov. 12, 2014)
About 100 firefighters rushed to the scene, some of them lowering ropes from the roof so the workers could secure themselves and providing a two-way radio to communicate, Nigro said. The workers, who have more than 20 years of experience between them, were harnessed to the platform, and the building's owner said they had all the requisite safety gear and training.
After shattering the window glass, firefighters began inching another scaffold down the building as a backup rescue plan. But the workers were brought to safety through the roughly 4-by-8-foot window hole.
"It was a fairly straightforward operation," said Battalion Chief Joseph Jardin, who oversees the fire department's special operations.
Officials stressed that firefighters had trained for various emergencies at the tower, which is the centerpiece of the rebuilt World Trade Center.
Firefighters generally seek to cut out windows to make such rescues, but Nigro noted the trade center's thick glass: a double-paned inner layer and an outer pane.
"And, of course, they were 68 stories up," he said. "That presented a little bit more of a challenge."
Lizama and Lopez were checked out at a hospital and were released. Their union, Service Employees International Union Local 32BJ, said it makes sure workers follow rigorous safety protocols.
The building's owner, the Port Authority of New York and New Jersey, said it was suspending window cleaning there while investigating what happened.
The window washers were working for Upgrade Services Window Cleaning, which services other prominent New York skyscrapers including the nearby 4 World Trade Center.
History Of Problems For Company That Installed WTC Window Washing Rig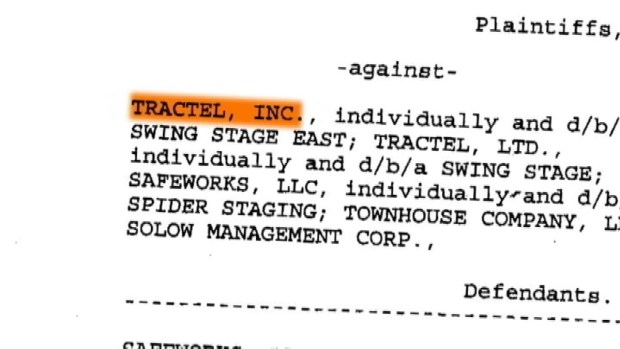 Toronto-based company Tractel was fined by OSHA last year after another accident, and before that was sued when a window washer died. Chris Glorioso reports. (Published Wednesday, Nov. 12, 2014)
The rig's supplier, the Tractel Group, which built and repaired scaffolds involved in two other high-profile accidents in recent years, didn't immediately return a call seeking comment.
The Tractel Group was fined $21,000 in 2008 after a scaffold it had repaired the year before gave way with two window washers aboard while they worked on the 47th floor of an upper Manhattan building; one worker died. Tractel also built a scaffold that snapped 500 feet above the ground last June in midtown Manhattan, leaving two workers dangling; they were rescued after firefighters cut through glass.
How Do Window Washers Protect Themselves?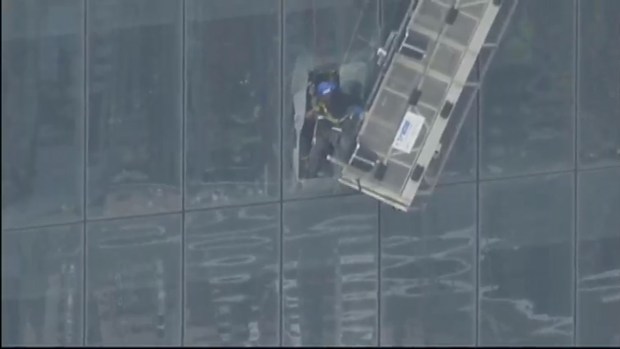 At 1 World Trade Center Wednesday, protective gear might have made the difference between life and death. Gus Rosendale reports. (Published Thursday, Nov. 13, 2014)
The silvery $3.9 billion skyscraper that rose from the ashes of the Sept. 11, 2001, terror attack, opened last week to 175 employees of magazine publisher Conde Nast. Steps away are two memorial fountains built on the footprints of the decimated twin towers, a reminder of the more than 2,700 people who died in the attack.
Associated Press writers Kiley Armstrong, Verena Dobnik, Deepti Hajela and Jennifer Peltz contributed to this report.
Published at 1:14 PM EST on Nov 12, 2014 | Updated at 9:06 AM EST on Nov 13, 2014