Police Seek Bikers in Washington Heights Funeral Tribute
Thursday, Jan 16, 2014 | Updated 5:25 AM EDT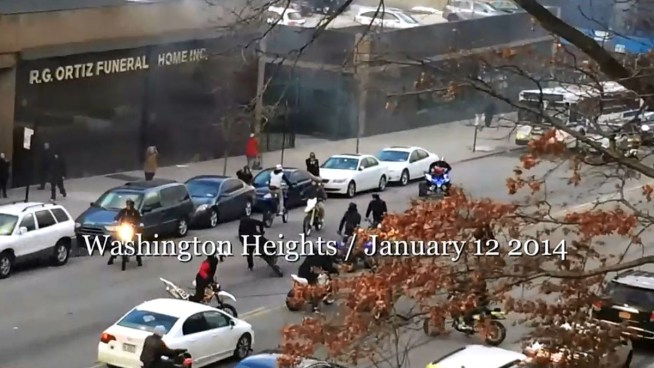 Police are looking for the motorcycle and ATV riders who were caught on camera Sunday afternoon blocking traffic on an upper Manhattan street doing tricks and riding on the sidewalk in an apparent tribute at a friend's funeral.
Video taken near a funeral home on Broadway in Washington Heights shows riders circling the street and sidewalk doing wheelies and spinning out, with at least one bumping into a parked car. Police say the riders endangered onlookers, pedestrians and drivers in the area, and residents nearby said they were intimidated by the stunt.
A representative of the funeral home told NBC 4 New York that the riders were paying tribute to a friend whose funeral was that day and didn't mean to scare anyone. The ride only lasted a few minutes, the representative said.
If you know anything about the riders, contact Crime Stoppers at 1-800-577-8477 or www.nypdcrimestoppers.com.