Subway Lines Reopen After UWS Water Main Break Disrupts Service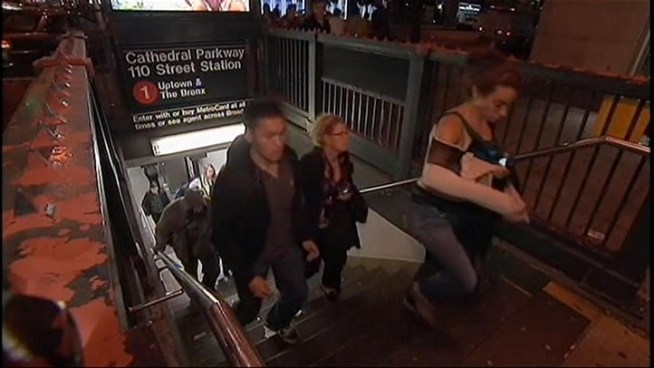 A 30-inch water main broke at 106th Street and Central Park West on Monday, flooding the neighborhood and nearby subway stations. The MTA says problems could linger until Tuesday morning's commute.
Subway service is back to normal after crews worked through the night to repair a 30-inch water main that broke at 106th Street near Central Park West Monday morning, causing a transit nightmare for area residents.
The water main broke at about 11:35 a.m., sending thousands of gallons of water spewing into the street.
"I just saw water gushing out of the ground really bad -- pretty high, too," said area resident Edward Lorenzo.
Service was disrupted or suspended altogether on the A, B, C and D lines Monday, making the commute home difficult for thousands. With subway stations closed up and down the West Side, riders were told to transfer to the No. 1 line.
"I went to the 1 platform, and it was literally like 20 deep to the train, I couldn't take that," said Kyle McGinley of Morningside Heights. "So then I went out to take the bus and there were people fighting each other in the bus line and shoving."
"There were no cabs to be had, so I was like, I'm gonna walk," McGinley said. He ended up walking from 59th Street to 110th Street.
The following photos of the water main break clean-up Monday night were provided by the MTA: