A Young Pitcher and the Ump Who Ruined a Perfect Game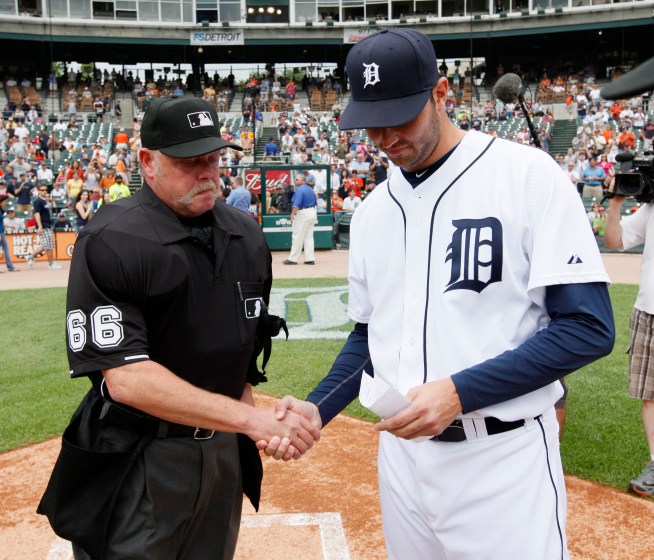 AP
Home plate umpire Jim Joyce, left, shakes hands with Detroit Tigers pitcher Armando Galarraga while handing the lineup card on the field before the Detroit Tigers-Cleveland Indians MLB baseball game in Detroit, Thursday, June 3, 2010. Galarraga lost his bid for a perfect game with two outs in the ninth inning on a disputed call at first base by Joyce on Wednesday night.
Repercussions from the imperfect call that spoiled a perfect game in a way should make us all proud. We should be proud of the ball player and the ump -- and of the way the baseball world reacted.
We witnessed a kind of morality play and the lesson was there for all of us. As the English poet Alexander Pope wrote:
"To err is human — To forgive divine."
Umpire Jim Joyce was tearful as he acknowledged his error in calling a batter safe at the end of the ninth inning, ruining a perfect game for the young Detroit pitcher, Armando Galarraga.
Although the ultimate dream of every pitcher had been dashed by a bad call, Galarraga managed to smile and get the last batter out. In the end he showed that the team came first.
But the next day, when Joyce came on the field, some fans cheered him and they saw Galarraga present the lineup card to the umpire as they shook hands. It was a beautiful moment for the two men and for baseball itself.
NBCNewYork Reporter Tim Minton interviewed some little league coaches who told him that the way the two men handled this matter should inspire the kids who play the game. They said that their charges could well learn from this experience about how to behave on and off the field.
When Leyland sent Galarraga out with that lineup card to hand to Joyce it was a symbolic act of great significance to the two men and the fans.
The great football coach Vince Lombardi said: "Winning isn't everything. It's the only thing!" Quite a contrast with the attitude of young Mr. Galarraga and his manager Jim Leyland!
Perfect games are few and far between but we can hope that the umpire who admitted his mistake and the young pitcher who acted in the highest traditions of good sportsmanship will live on in baseball history.
If Vince Lombardi is remembered, why not a couple of guys who acted as though winning wasn't everything?