St. Vincent's to Become Condos, Walk-in Facility
Officials are waiting on bankruptcy court judge's approval.
Thursday, Mar 10, 2011 | Updated 6:20 PM EDT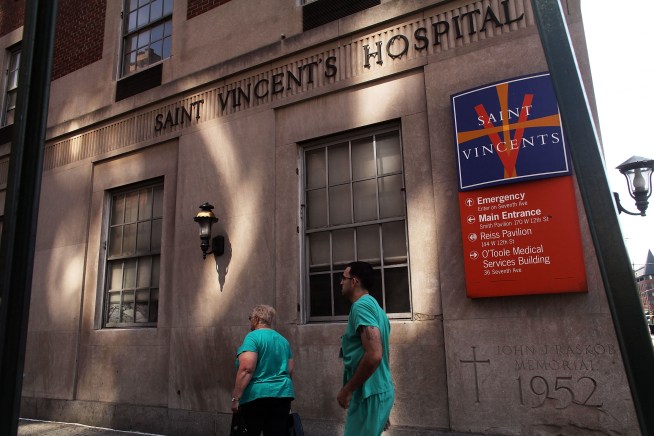 Getty Images
NEW YORK - APRIL 07: hospital employees walk by St. Vincent's Hospital on April 7, 2010 in New York City. On Tuesday the board of St. Vincent Catholic Medical Centers voted to close the hospital following its unsuccessful search to find a way out of its estimated $700 million of debt. The Westside hospital, which has served Manhattan for 160 years, may retain some of its services like an urgent care facility. (Photo by Spencer Platt/Getty Images)
A New York developer and a Long Island health care provider have announced a deal to turn the historic St. Vincent's Hospital into a walk-in emergency facility and hundreds of luxury condominium apartments.
Rudin Management said Thursday it will spend $260 million to cover some of St. Vincent's debts. Officials from the hospital group late last year asked a United States Bankruptcy Court to approve the firm's hiring.
The new facility operated by the North Shore-Long Island Jewish Health System is to open by 2013.
Health-care activists say the new walk-in facility leaves Manhattan's Lower West Side without a trauma center. A group of community leaders have called a meeting this week to denounce the development plans.
The city's last Catholic-affiliated hospital filed for bankruptcy before closing in April, citing a debt topping $1 billion dollars.
St. Vincent's opened in 1849 to treat cholera patients and other poor New Yorkers. The hospital later pioneered AIDS treatments, while serving as a top-level trauma center.
In August of 2010, former employees of St. Vincent's filed a lawsuit alleging hospital executives mismanaged funds and contributed to the hospital's demise. The suit sited a $278,000 golf outing and $104 million on other, unspecified expenses.