Immigration Law Protesters Arrested in New York
As the fight for immigration reform continues
Thursday, Jun 30, 2011 | Updated 2:45 PM EDT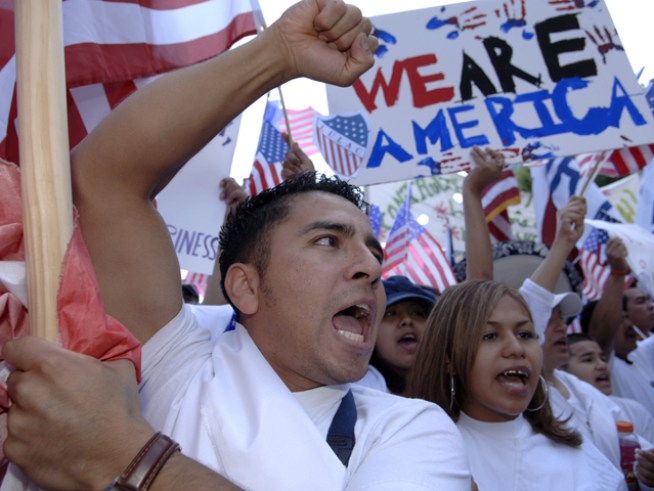 Getty Images
Juan R. Ramirez gestures as he leads the front of the Mega March protest on City Hall April 9, 2006 in Dallas, Texas. According to reports, an estimated half million Hispanics participated in the Mega March to peacefully protest immigration reform. Variables like the percentage of foreign-born people helped Richard Florida's research team come to the conclusion that DFW is the 23rd most tolerant metro area in the U.S.
Protesters for immigration reform are focusing on adding pressure on President Obama to enact "just and humane" change and stop Arizona's controversial law.
Two New York politicians, along with more than 2 dozen other individuals, have been arrested on charges of disorderly conduct at a protest Monday.

City Council member Melissa Mark-Viverito and State Assembly member Adriano Espaillat were issued disorderly conduct summonses for blocking the road in front of Federal Plaza in downtown Manhattan.

The protest was the second of three planned on the issue. Last week, 16 people were given disorderly conduct summonses as well.

In an effort to identify and deport illegal immigrants, the Arizona law that has been the center of much debate requires immigrants to carry the proper documents.

The law has been under much criticism and its constitutionality is facing a lot of debate.