Placard Patrol Nets One of Their Own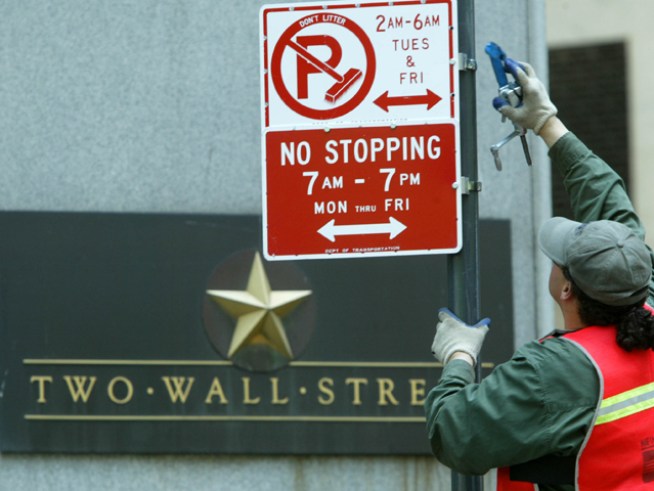 Getty Images
NEW YORK - JUNE 6: A man changes the parking rule sign to a stricter "No Stopping" at the corner of Broadway and Wall Street in the financial district June 6, 2003 in New York City. Regulations continue to be tightened in lower Manhattan as ongoing security evaluations continue after 2001's terrorist attacks.
Isn't it ironic.
An NYPD cop in charge of the crackdown on parking-placard abuses is now himself under investigation for abusing his parking-placard privileges.
Lt. Jamal Doute, head of the NYPD Internal Affairs Bureau's Vehicle Placard Unit, was busted down after one of the parking cards showed up on the windshield of a female friend of his, the Post reported.
Formerly, Doute's duty was to determine which cops get placards and make sure no one used them improperly. The tighter controls came about after it was reported that the city had nearly 150,000 free parking passes, and Mayor Bloomberg ordered a reduction to about 50,000, according tot he Post.
The crackdown was accompanied by an order to reveal city employees who were misusing the windshield cards at bus stops, fir hydrants, and crosswalks.
With Doute in charge of the effort, the NYPD recalled all of its 65,000 placards in May 2008, then began doling out 43,000 new ones to a smaller vetted group.
The probe into Doute began when a patrol cop saw one of the older parking placards on a car in Brooklyn, and an investigation revealed that the vehicle belonged to a gal pal of Doute's, sources told the Post.
Doute allegedly told investigators that the woman had stopped by his office and taken the card without his permission.
The lieutenant faces departmental charges of failing to safeguard a department placard.