Peralta Officially Takes Over Monserrate's Seat
Wednesday, Mar 17, 2010 | Updated 6:30 PM EDT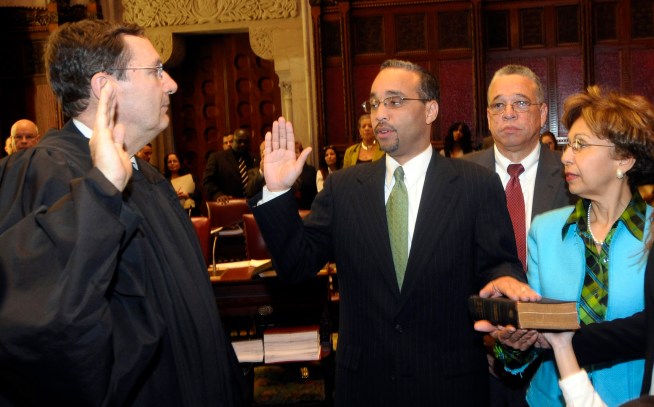 AP
Assemblyman Jose Peralta, D-Queens, who won Tuesday's special election to fill the New York Senate seat of expelled Sen. Hiram Monserrate, is sworn into office as a Senator by Supreme Court Justice Joseph Teresi, as his parents, Jose Peralta and Evelyn Hernandez, look on during a ceremony in the Senate Chamber at the Capitol in Albany, N.Y., Wednesday, March 17, 2010.
The New York state Senate's newest senator has taken office, ending a lengthy saga in the chamber after his expelled predecessor was convicted of assault.
Sen. Jose Peralta, a Queens Democrat, replaced Hiram Monserrate.
Senators expelled Monserrate in February after he received a misdemeanor conviction for dragging his girlfriend through an apartment lobby.
Monserrate failed to get his expulsion blocked in federal court, but got on the ballot for the special election to fill his old seat in Queens.
Senators on both sides of the aisle gave Peralta a standing ovation Wednesday after he was sworn in.
The event also gave back Democrats the minimum 32 member majority needed to pass legislation without any of the 30 Senate Republicans.