NY Volunteer Effort Spreads to 10 Cities
Monday, Jan 18, 2010 | Updated 3:30 PM EDT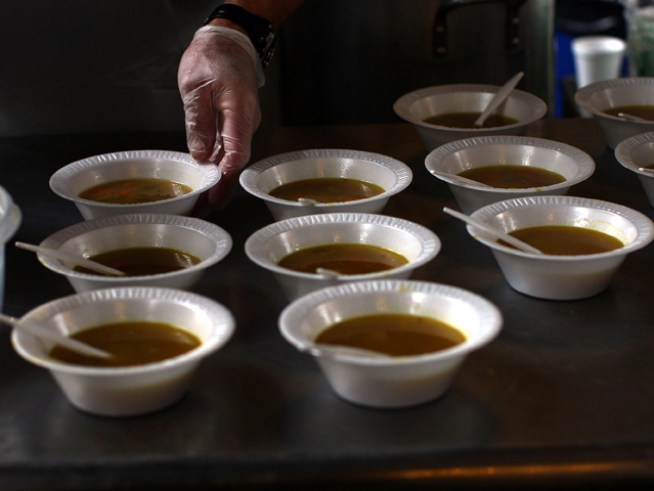 Getty Images
Pea soup is placed out on a table at a soup kitchen in a church March 26, 2009 in Waterbury, Connecticut. Waterbury, a small working class city situated in one of the wealthiest sates in the country, has a poverty rate of approximately 16%, compared to 7.9% in the rest of the state. In 2008 the Connecticut Food Bank distributed more than 16 million pounds of food to food-assistance programs throughout the state, a 4.8% increase over 2007. The number of clients at food pantries and soup kitchens in Waterbury has nearly doubled as the economy in America has continued to contract and shed jobs.
Thousands of new volunteers have fanned out across New York in the past year, installing fluorescent light bulbs, cleaning up streets and giving flu vaccinations -- and on the success of those efforts the initiative is now expanding.
New York Mayor Michael Bloomberg and Chicago Mayor Richard M. Daley joined Rockefeller Foundation President Judith Rodin Monday to announce grants of $200,000 apiece to 10 cities.
Grant cities are: Chicago; Detroit; Los Angeles; Nashville-Davidson, Tenn.; Newark, N.J.; Omaha, Neb.; Philadelphia; Sacramento, Calif.; Savannah, Ga.; and Seattle.

They say the money can be used to hire senior city officials dedicated to developing citywide plans to increase volunteerism under the new Cities of Service Coalition.
The program was Mayor Bloomberg's response to President Obama's call to increase civic service, which began in April, and includes nearly 200 AmeriCorps Vista volunteers who have fanned out across the city as a kind of consulting force, The New York Times reported.
Their work, city officials say, has resulted in 18,000 new volunteers serving 67,000 New Yorkers.