NY Indian Tribes Last-Minute Push for Cigarette Tax Block
Tuesday, Aug 31, 2010 | Updated 1:46 PM EDT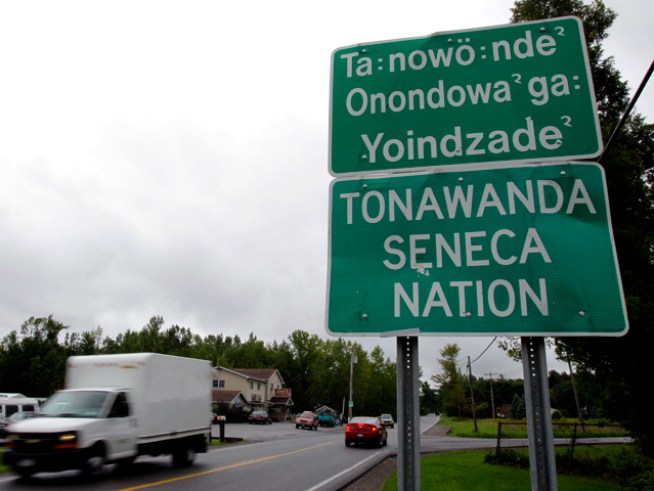 AP
The Tonawanda Seneca Nation in N.Y., Monday, Aug. 23, 2010. Tensions are rising as the state nears the Sept. 1 start date to collect taxes on cigarettes sold by Indian tribes.
Two New York tribes are making a last-ditch effort to block the state's plans to tax reservation sales of cigarettes to non-Indian customers.
Lawyers for the Cayuga and Seneca nations are due in federal court in Buffalo on Tuesday to seek a temporary restraining order that would stop the state from imposing a $4.35 per pack tax on cigarettes sold by reservation retailers starting on Wednesday.
The tribes say the policy change violates sovereign rights and will damage their economies.
The cash-strapped state sees a potential $200 million source of annual revenue.
The St. Regis Mohawk Tribe is challenging the tax in another federal court in northern New York.
State tax officials say cigarette makers sold 24 million cartons of cigarettes to New York Indian tribes last year.