Ailing Hero K-9 Gets NJ Police Salute Before Death
Officers and their K-9s from a dozen southern New Jersey departments gave the cancer-stricken Rosko a full salute Monday as he arrived at a veterinary hospital in Linwood to be euthanized
Tuesday, Mar 20, 2012 | Updated 2:53 PM EDT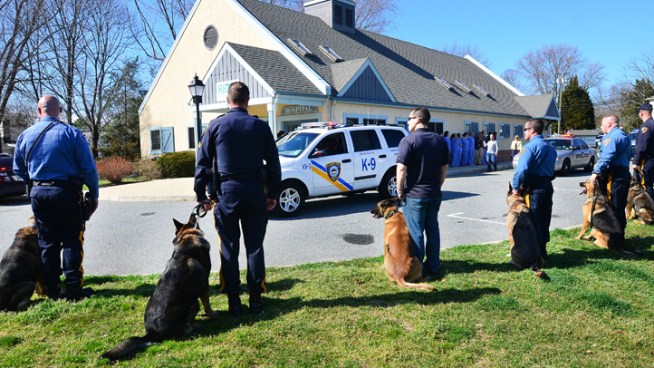 AP
K-9 officers stand at attention with their dogs as the Atlantic City Police Department car carrying Rosko arrives at the Red Bank Veterinary Clinic in Linwood, N.J., Monday March 19. ACPD K-9 dog Rosko was put to sleep Monday afternoon at the clinic. The sad event drew police dogs and trainers from all over New Jersey. Rosko was suffering from cancer.
Ailing Rosko the K-9 got a farewell befitting a police dog who once captured a man who shot two policemen.
Officers and their K-9s from a dozen southern New Jersey departments gave the cancer-stricken Rosko a full salute Monday as he arrived at a veterinary hospital in Linwood to be euthanized.
Before being taken to the hospital, The Press of Atlantic City reports the 8-year-old did one last round of exercises at Atlantic County K9 academy with his partner, Atlantic City Officer Joe Rodriquez.
In 2006 Rosko captured a man who fled into the woods after shooting two Egg Harbor Township officers.
A week ago the K-9's illness began affecting his eating habits and mobility so a decision was made to put him down.