Judge Blocks Anti-Day Laborer Law on Long Island
Oyster Bay officials said they were disappointed with the ruling.
Friday, May 21, 2010 | Updated 4:30 PM EDT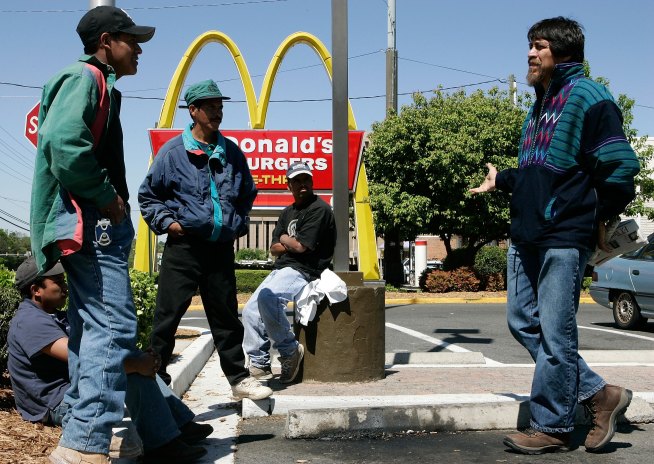 Getty Images
ANNANDALE, VA - APRIL 28: Arnoldo Borja (R), a community organizer of Virginia Justice Center, talks to Latino day laborers who stand along Little River Turnpike waiting for construction and landscaping jobs April 28, 2006 in Annandale, Virginia. Borja, an immigrant who came to the U.S. in 1989 from Mexico, visits the site every morning to mediate between day laborers, police and local businessmen to help solving any upcoming problems. Fairfax County government is looking currently for a location to create a new official day labor site, and Borja hopes the new center will serve laborers from all over the world and will provide English and Spanish language classes and job training. (Photo by Alex Wong/Getty Images)
A federal judge has issued a temporary restraining order halting enforcement of a Long Island town ordinance that targeted day laborers.
The Oyster Bay ordinance made it a crime to solicit employment by shouting at cars and waving arms or signs.
Federal Judge Denis Hurley said Thursday the ordinance was "considerably broader than necessary to achieve its intended goal."
The town approved the ordinance in September. A hearing on a preliminary injunction is set for May 28.
The New York Civil Liberties Union filed a suit against the town on Tuesday. It argued it was unconstitutional.
Oyster Bay officials said they were disappointed with the ruling.