Man Rescued from Harlem Trench Collapse
The 7-foot trench collapsed along 122nd Street near Park Avenue.
Friday, Mar 2, 2012 | Updated 5:11 PM EDT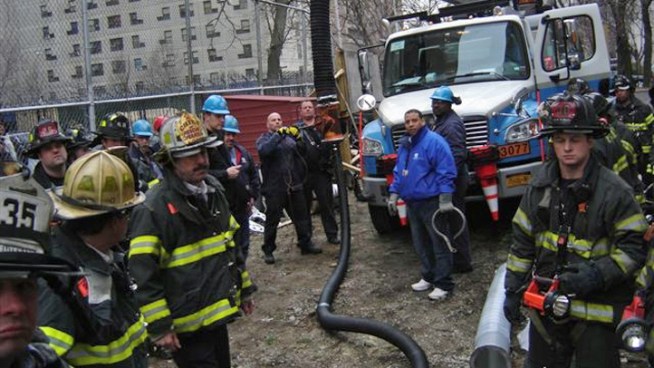 Con Ed
FDNY rescuers use a a Con Edison vactor truck, essentially a giant vacuum on wheels, used to clean underground areas like manholes and vaults. The truck was used in the rescue of a man trapped in a trench Friday.
A trench collapsed Friday in Harlem, trapping a worker who had to be rescued from chest-deep debris, officials said.
The 7-foot trench collapsed at a construction area on 122nd Street at Park Avenue.
Firefighters and rescue medics used a vacuum truck to suck out debris and get to the victim.
Those on scene said workers were doing waterproofing work on the foundation of a building there. Loose debris from one wall of the trench fell in on the man, trapping him.
The Department of Buildings said the contractor was operating without a permit; a stop work order was issued. Officials also found that the trench walls were not property shored up.
The victim was in serious but stable condition at Harlem Hospital.