5 Firefighters Hurt in Crown Heights Blaze
The fire broke out in a brownstone on Prospect Place.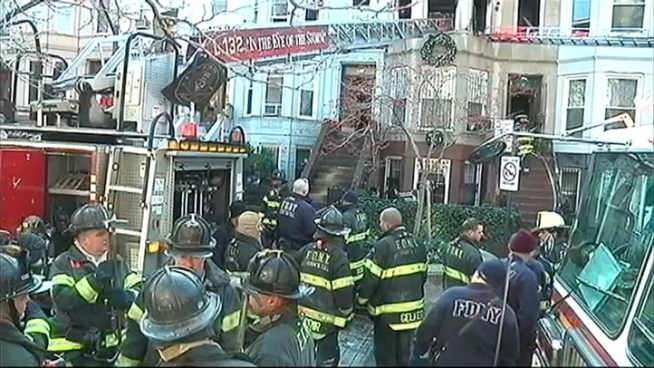 NBC New York
A raging fire at a brownstone in Crown Heights injured five firefighters on Monday. Two of them suffered severe burns and remain hospitalized. Roseanne Colletti reports.
Five firefighters were injured in a blaze at a Brooklyn brownstone Monday and two are in serious condition.
The FDNY says the two firefighters seriously hurt were taken to an area hospital for treatment. One of them, Robert Weidmann, suffered burns over 40 percent of his body, including his face, hands and head, the FDNY said.
The other three firefighters suffered minor injuries, authorities said.
They were responding to a two-alarm fire Monday in a three-story brownstone on Prospect Place near Albany Avenue in Crown Heights.
More than 100 firefighters and emergency crews were at the scene.
The FDNY says the fire is under investigation and it's not believed to be suspicious.
Many people in the neighborhood had already gone to work when the fire broke out, but nearby resident Vera Hudson works nights and was still home.
"Someone was banging on my door yelling 'Fire,'" she told NBC New York.
The fire was confined to one building, the home of Donald and June Rogers and their four children. No one was home when the fire swept through the top floor.
Weidmann, the 38-year-old firefighter who suffered the most serious injuries, is a 14-year veteran on the force.