2 Firefighters in Serious Condition After Crown Heights Blaze
The fire broke out in a brownstone on Prospect Place.
Tuesday, Dec 20, 2011 | Updated 9:01 AM EDT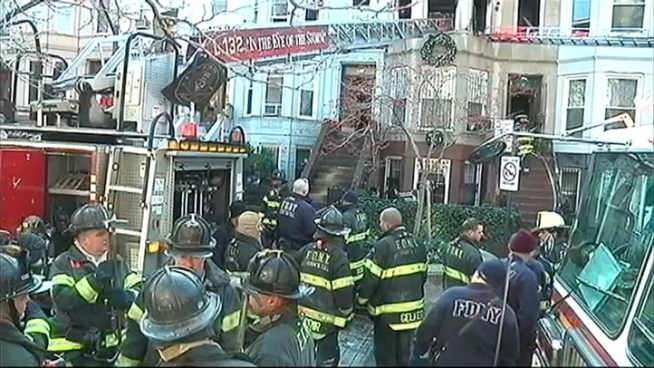 NBC New York
A raging fire at a brownstone in Crown Heights injured five firefighters on Monday. Two of them suffered severe burns and remain hospitalized. Roseanne Colletti reports.
Two firefighters who were badly burned at a Brooklyn apartment fire are in serious but stable condition.
The FDNY gave the condition update Tuesday on firefighters Robert Wiedmann and James Gersbeck of Rescue 2.
Fire union president Stephen Cassidy says Wiedmann was "literally on fire'' when he was rescued through a third-story window on Monday. Gersbeck made it out by himself, despite his injuries.
Both were taken to the Weill Cornell burn center in Manhattan.
Three other firefighters were treated for minor injuries.
The fire was on the top floor of a three-story brownstone in Crown Heights.
The cause of the fire was not immediately determined.