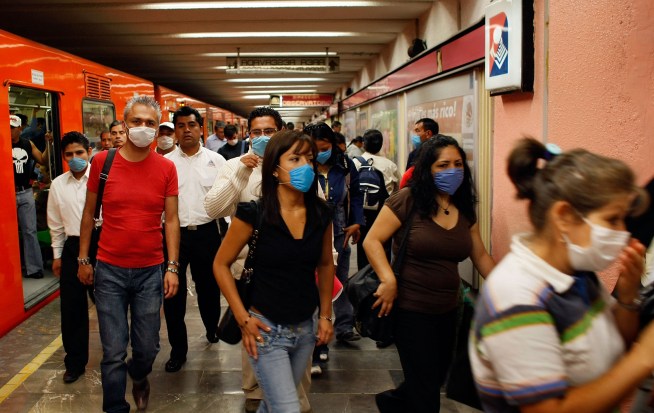 Getty Images
People wear surgical masks, to help prevent being infected with the swine flu, as they ride the subway in Mexico City, Mexico. They certainly aren't throwing make-out parties.
An NYU student is attempting to garner some laughs from her peers by throwing a four-month "Swine Flu Convention" on Facebook.
While it may seem like just a sick joke to some, it's actually an invite-only, make-out party being organized on the social networking site.
"A lot of negative media has begun surrounding what is known in America as swine flu," convention creator AmandaPanda Ellis wrote in the event description. "News anchors and bloggers alike have been viciously attacking this condition, pointing out solely the unfavorable aspects, such as death."
Right. Oh, that nasty, little side effect death. But the party creators won't let anything like a global influenza pandemic slow them down!
The event listing tells anyone lucky enough to be invited to, "Be yourself. Have swine flu. Kiss someone with Swine Flu," before comically adding, "Eat sandwiches with muenster cheese and thinly sliced tomatoes [sic]."
But are fellow NYU students likely to appreciate the dark humor in the party, as its creator likely intended? No, not really!
"Any guesses as to when this won't be funny anymore?" NYU Local asked its readers.
While nobody's answered that question directly, I'm going to go out on a limb and say the swine flu make-out party idea stopped getting laughs when the illness hit New York last week.