Husband, Wife Shot As They Slept
Both of the victims were shot in the head.
Friday, Sep 2, 2011 | Updated 8:00 PM EDT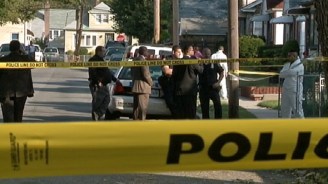 A Queens husband and wife were both shot in the head and killed as they slept in their bed early Friday.
Police responded to the home near Grayson Avenue and 122nd Street in Jamaica just before 4 a.m. Friday.
They found the couple's 23-year-old son with a gunshot wound to the left shoulder.
Inside the home they found a 64-year-old man, Sugrim Jaggarnauth, and a 56-year-old woman, Rosie Jaggarnauth, with gunshot wounds to the head.
Police believe an unknown gunman slipped into the home, fired on the son and then walked upstairs and killed the couple, according to the Daily News.
The son, Shane Jaggarnauth, was taken Jamaica Hospital, where he is in stable condition.
His black Toyota Rav 4 was missing and police believe it was stolen by the gunman.