Dems Mayoral Debate Focuses on Money, Mike
The primary is Sept. 15.
Thursday, Aug 27, 2009 | Updated 6:45 AM EDT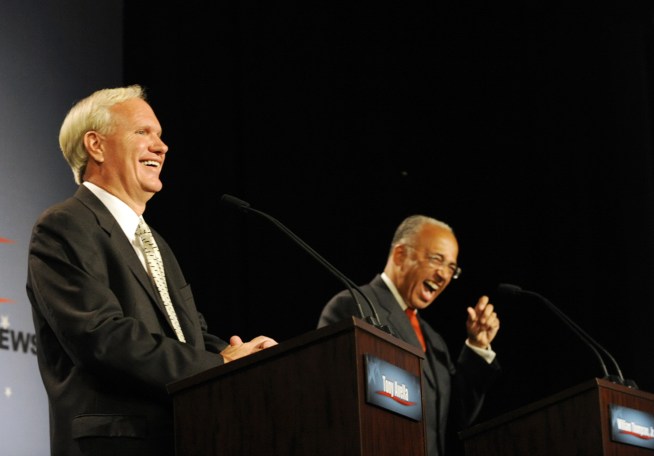 AP
Democratic mayoral candidates, New York City Councilman Tony Avella, left, and New York City Comptroller William Thompson Jr. laugh during their first mayoral debate at the New York Public Library, Wednesday, Aug. 26, 2009, in New York.
Two Democrats competing in a primary to face the city's billionaire incumbent mayor didn't tussle over issues
in their first official debate, but they did fight about money.

Democrats William Thompson Jr. and Tony Avella ignored each other throughout the debate on Wednesday night.
Instead, they attacked Mayor Michael Bloomberg, who was not there. The Republican-turned-independent faces no primary challenger.

Thompson and Avella did argue once _ about money, a hot topic in a race where the popular mayor is spending millions on his campaign.

Thompson compared his campaign to President Barack Obama's grass-roots effort. Avella ridiculed the description because most of Thompson's donations are not from small donors.
The primary is Sept. 15.
The debate comes a day after thre-quarters of registered voters said they had see the schlew of Bloomberg campaign ads he's released this season. Of those, the survey found that nearly half found the "boring."