Cory Booker's Father Dies at 76
Newark Mayor and U.S. Senate candidate Cory Booker has canceled his campaign events
Thursday, Oct 10, 2013 | Updated 5:14 PM EDT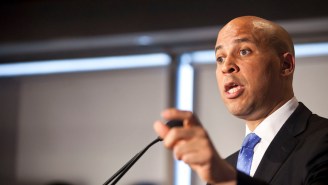 Getty Images
Newark Mayor Cory Booker during a news conference on his plans to campaign for the Democratic nomination to run for the seat of late U.S. Sen. Frank Lautenberg on June 8, 2013 in Newark, New Jersey.
Newark, N.J., Mayor Cory Booker is canceling Senate campaign events in the wake of his father's death.
Booker's Senate campaign says in a statement that Cary Booker died Thursday in Las Vegas. He was 76. He recently had a stroke and suffered from Parkinson's disease.
Booker died less than a week before a U.S. Senate election in which his son is considered the favorite to win.
Cory Booker often speaks about how his father rose up from poverty. His father and mother, Carolyn, were among the first black executives at IBM. Cary Booker, who grew up in North Carolina, also was active in the civil rights movement.
The Booker family moved to New Jersey in 1969.
Cory Booker has cancelled all his Thursday campaign events. The election is next Wednesday.