Calif. Group Launches Anti-Tea Party Ad in Times Square
Wednesday, Sep 22, 2010 | Updated 2:30 PM EDT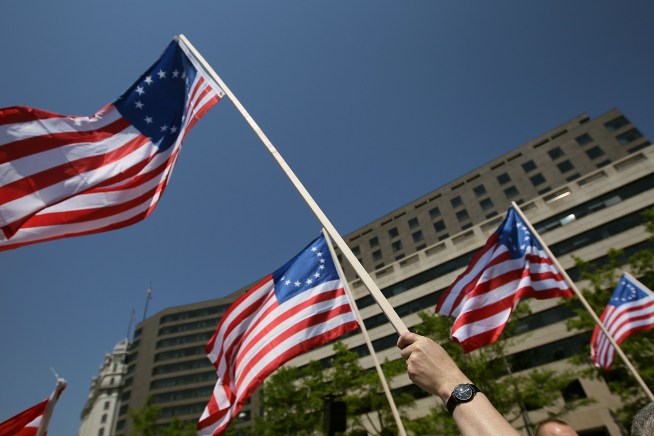 Getty Images
WASHINGTON - APRIL 15: People hold flags while participates in a Tea Party Protest in Freedom Plaza April 15, 2010 in Washington, DC. The event, titled the Peoples Tax Revolt, coincided with the day that American citizens are required to file their national income tax. (Photo by Mark Wilson/Getty Images)
A California consumer-advocacy group has launched an ad on a Times Square video screen aimed at rallying the left before the November elections and labeling the tea party movement as "insane.''
The 30-second spot by Consumer Watchdog flashes phrases such as "home foreclosures'' and "Wall Street greed'' across a 520-square-foot screen as flames burn in the background.
It asks viewers, "Are you mad as hell but think the tea party is insane?''
Jamie Court, president of the Santa Monica-based group, says the nonprofit wants to provide voters with an alternative to the tea party and help channel their frustration in productive ways.
Calls and e-mails to a leading national tea party figure in California were not immediately returned. Consumer Watchdog is best known for its lawsuits against the insurance industry.