Beep Beep Sheep: Lambs Cause Jam on NJ Interstate
Thursday, Aug 26, 2010 | Updated 4:15 PM EDT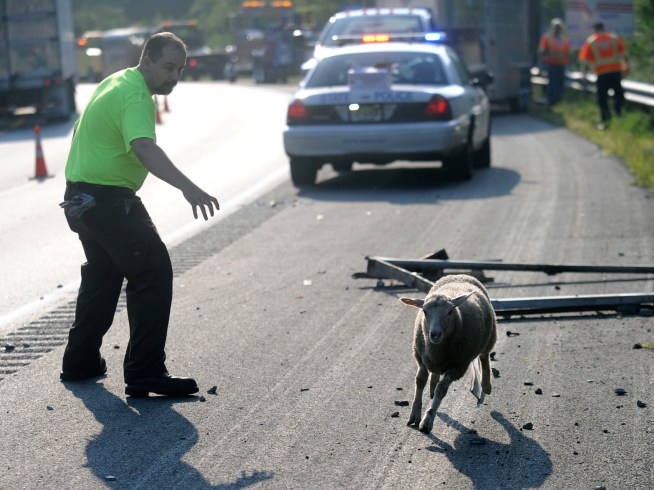 AP Photo/Pocono Record, David Kidwell
Bill Luscik, a maintenance worker for the Delaware River Joint Toll Bridge Commission, chases a sheep along I-80 in Knowlton Township, New Jersey on Thursday, Aug. 26, 2010. A trailer hauling around 100 sheep overturned on the interstate near Kittatinny Visitor's Center in the Delaware Water Gap National Recreation Area early Thursday morning. A couple dozen sheep were killed in the accident and several sheep escaped and ran free at the wreck scene until they were caught. Traffic was slow through the area for hours until the wreck was cleared.
Traffic is flowing again on Interstate 80 in New Jersey after a truck carrying sheep overturned and set scores of them loose.
The sheep were on their way to a slaughterhouse when they were tossed out of the overturned tractor-trailer near the New Jersey-Pennsylvania line.
Truck driver Marvin Raber told the Pocono Record he was driving from Ohio to New York when he tried to change lanes and his truck flipped over.
It took about four hours before both eastbound lanes reopened through Knowlton.
Some sheep had to be euthanized after the crash.