NY 9/11 Judge OKs $6B vs. Iran, Taliban, al-Qaida
The order signed Wednesday by Judge George Daniels is largely symbolic, but it provides some hope the relatives of Sept. 11 victims can someday recover damages
Wednesday, Oct 3, 2012 | Updated 8:39 PM EDT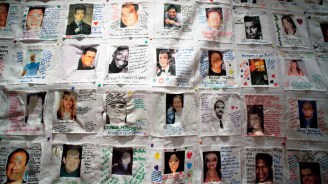 AP
Photos of victims of the attacks of September 11 and messages from their loved ones, are shown at a news conference, Monday, Sept. 10, 2012 in New York. On the eve of the Sept. 11 anniversary, the faces and recorded voices of those who died have been unveiled as part of the future 9/11 Memorial Museum.
A New York federal judge who found Iran, the Taliban and al-Qaida culpable in the 2001 terrorist attacks has approved a $6 billion default judgment against them.
The order signed Wednesday by Judge George Daniels is largely symbolic, but it provides some hope the relatives of Sept. 11 victims can someday recover damages. A federal magistrate judge recommended the damages over the summer.
Daniels last year signed a default judgment pertaining to a lawsuit brought by relatives of 47 victims. He found al-Qaida, the Taliban and Iran liable and asked the magistrate to determine damages. He said support the defendants provided to al-Qaida enabled the terror attacks.
Iran's president has repeatedly denied any Iranian connection to the Sept. 11 attacks or to al-Qaida.