Lane Returns to "Guys and Dolls," While Levi's "Date" Ends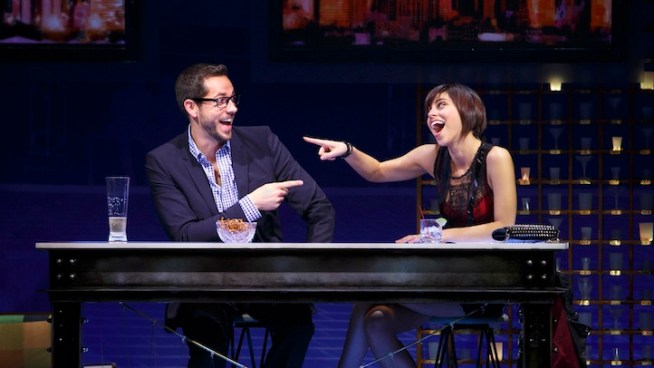 Joan Marcus
Zachary Levi and Krysta Rodriguez will keep their "First Date" going until the new year.
While you were entranced by Fantasia Barrino's flawless vocal performance in "After Midnight," here's what was happening this week In the Wings:

Carnegie Hall is hosting a one-night-only all-star concert performance of "Guys and Dolls." Nathan Lane will be back as Nathan Detroit, a role for which he was Tony-nominated in the 1992 Broadway revival. Alongside him will be "Will & Grace" star Megan Mullaly as Miss Adelaide, Patrick Wilson as Sky Masterson and Sierra Boggess as Sarah Brown. Jack O'Brien ("Hairspray") will direct the April 3, 2013 concert. Tickets can be purchased at carnegiehall.org. Or you can try and win them in your local underground dice game. [More Info]
"First Date" will play its last performance at the Longacre Theatre on Jan. 5. The new musical, in which Zachary Levi ("Chuck") and Krysta Rodriguez ("Smash") play two singles on their first date, will have played 34 previews and 174 regular performances. Don't cry too hard for Levi -- he's appearing on the big screen in "Thor 2: The Dark World," opening today. [More Info]
Want to star in a music video along with Carrie Underwood? Now's your chance! In honor of NBC's upcoming live production of "The Sound of Music" on Dec. 5, Underwood, with the help of YouTube superstars Mike Tompkins and Chester See, are putting together a music video for "Do-Re-Mi." So rip those curtains down, sew yourself a new outfit and head over to www.soundofmusicmashup.com to enter.
"Rocky" announces casting for Balboa's most famous boxing rival. Terence Archie will play the Master of Disaster Apollo Creed in the upcoming stage musical based on the 1976 film. Archie had previous played the role when the show has its premiere last year in Hamburg, Germany. Also: Dakin Matthews and Danny Mastrogiorgio have joined the cast as Rocky's trainer, Mickey, and Adrian's brother, Paulie, respectively. You can catch them, as well as previously announced Andy Karl (Rocky) and Margo Seibert (Adrian), when "Rocky" begins performances at the Winter Garden Theatre on Feb. 11. [More Info]
And finally, Il Divo began performances of their limited engagement Broadway concert. "Il Divo: A Musical Affair" has the international pop opera quartet performing songs from hit Broadway musicals like "West Side Story," "South Pacific" and "The Phantom of the Opera," alongside Tony winner Heather Headley ("Aida). The show closes Nov. 13, and if you can't make it, then watch their performance of "The Lion King" hit "Can You Feel the Love Tonight" on "The Today Show." [More Info]