Jackson Case Pharmacy Search Was About Anesthetic
Friday, Aug 14, 2009 | Updated 6:51 AM EDT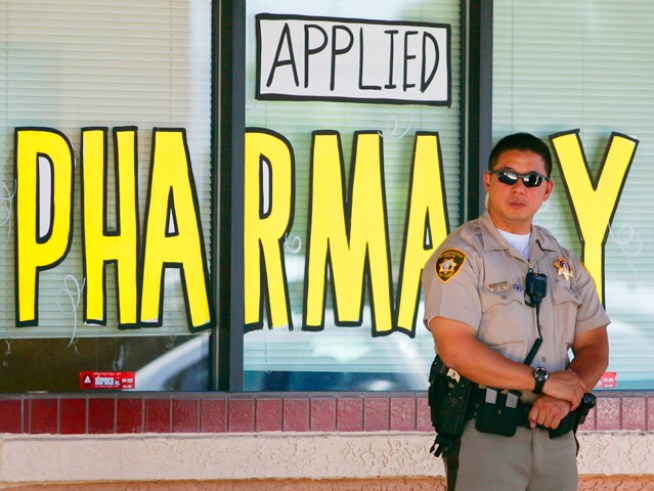 AP
Las Vegas Metro Police officers outside Applied Pharmacy Services. Authorities left the pharmacy with briefcases and documents which may be used to assist in the ongoing investigation of Michael Jackson's death.
Police and federal agents sought records showing Michael Jackson's doctor or his employees bought the potent anesthetic propofol when they searched a Las Vegas pharmacy two days ago.
A search warrant made public Thursday shows Los Angeles police and federal Drug Enforcement Administration agents removed only copies of miscellaneous paperwork during a search Tuesday of Applied Pharmacy Services LLC.
VIEW THE PHOTOS: Michael Jackson Death Investigation: Who's Who?
It provides more evidence that authorities are zeroing in on Dr. Conrad Murray as the central figure in the ongoing probe of Jackson's June 25 death.
Murray has told investigators he administered propofol and multiple sedatives to help Jackson sleep hours before he died in a rented Beverly Hills mansion.
VIEW THE PHOTOS: Michael Jackson: The King Of Pop
Propofol, also known as Diprivan, is normally used by anesthesia professionals to render patients unconscious for medical procedures in medical settings.
Related Content from AccessHollywood.com:
VIEW THE PHOTOS: The Latest Star Sightings
PLAY IT NOW: Will Michael Jackson Be Buried Soon? (August 12, 2009)
PLAY IT NOW: Does Katherine Jackson Want A Third Autopsy On Michael? (August 6, 2009)
MORE ACCESS ON THESE TOPICS: Michael Jackson - Celebrities - TV One