Carrie Underwood Launches Flood Relief Fund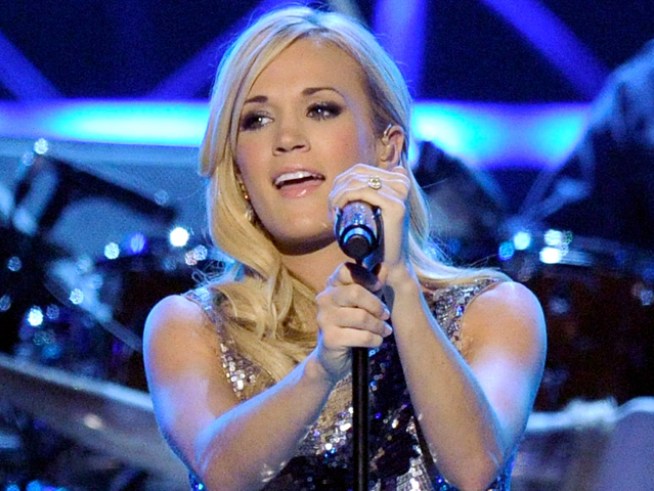 Getty Images
LAS VEGAS - APRIL 19: Singer Carrie Underwood performs onstage during Brooks & Dunn's The Last Rodeo Show at MGM Grand Garden Arena on April 19, 2010 in Las Vegas, Nevada. (Photo by Ethan Miller/Getty Images)
"Temporary Home" isn't just Carrie Underwood's latest No. 1 single — it's also the living situation for thousands of Tennessee residents displaced by deadly flooding earlier this month.
That's why Underwood is launching the Temporary Home fund along with ACM Lifting Lives to help flood victims.
VIEW THE PHOTOS: The Bling Is The Thing! Hottest Celebrity Engagement Rings
Underwood is using grants she would receive as the reigning Academy of Country Music entertainer of the year for the fund. Lifting Lives is donating money from the taping of "ACM Presents: Brooks&Dunn — The Last Rodeo" tribute special that airs Sunday on CBS.
Starting Thursday, people can donate by texting "ACM" to 501051. Underwood has taped a public service announcement that will air during the Brooks & Dunn special.
VIEW THE PHOTOS: 2010 Academy of Country Music Awards
Donations also can be made at www.ACMliftinglives.org and www.CBS.com/give.
Copyright 2010 by Associated Press. All rights reserved.This material may not be published, broadcast, rewritten or redistributed.
Related Content from AccessHollywood.com:
VIEW THE PHOTOS: Top 10 Best Selling 'American Idols'
VIEW THE PHOTOS: Big Game, Big Stars! Hot Shots From Super Bowl XLIV!
PLAY IT NOW: Style Star Of The Week: Carrie Underwood Shines
PLAY IT NOW: 2010 Academy Of Country Music Awards: Carrie Underwood - 'I Was Honored'
More from Access: [ Carrie Underwood Country Music Music ]