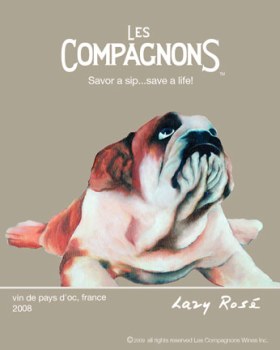 Les Compagnons
GOOD CLAWS:
When Les Compagnons Wines launched last year, donating partial proceeds to local animal shelters like The Toby Project and Stray From the Heart, we couldn't believe someone had finally twinned two of our most favorite things -- dogs and wine -- and for a good cause to boot. They recently added
Lazy Rosé, an ultra-sippable
Languedoc
rosé,
to their lineup – and it's perfectly married with your holiday cheese board (seriously – don't let anyone try to sell you on the whole "rosé is summer-only" thing).
GET
IT:
$13.99 at Gotham Wines & Liquors,

2517 Broadway;
212-932-0990
and other stores.