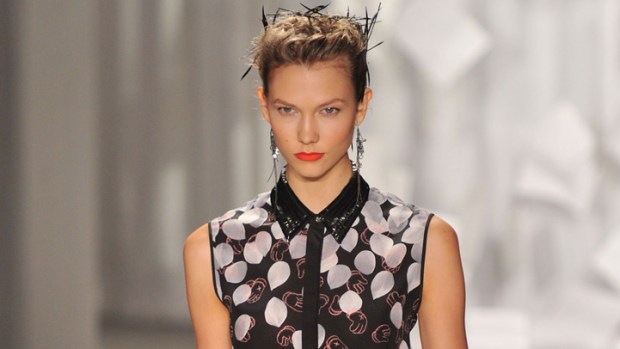 Getty Images
Karlie Kloss walks the runway at Jason Wu's Spring 2012 show.
When CNN's Alina Cho revealed on Twitter last night that she'd heard top model Karlie Kloss was skipping New York Fashion Week this season for "a big opportunity," word spread quickly. By this afternoon, Fashionista had spotted a tweet from The Daily Beast's Isabel Wilkinson confirming the rumor.
Kloss's spokesperson apparently told Wilkinson that the model was skipping the week's events because "an engagement has come up." No word yet on what that "engagement" might be, but if it's not a personal matter, it must be a pretty blockbuster business opporunity to keep her out of the New York fashion scene for a season. To say that Kloss has skyrocketed to success would be to put it mildly, and she's especially popular in New York among close pals like Jason Wu.