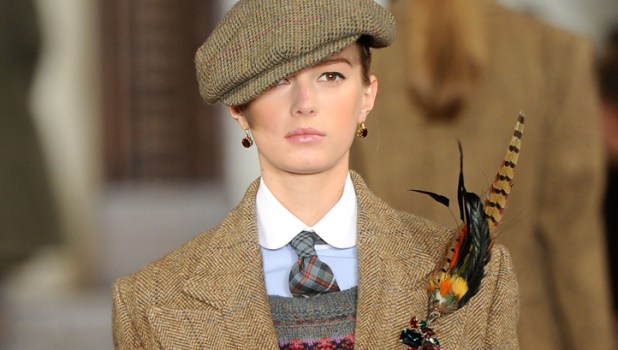 Getty Images
A look from Ralph Lauren's "Downton Abbey"-influenced fall collection, shown at New York Fashion Week.
Considering the fashion community's obsession with BBC's hit show "Downton Abbey," it seemed only a matter of time before some looks on the runway would play catch-up.
On Thursday, the style set got their wish, as the opening music for Ralph Lauren's Fall 2012 runway show was "Downton Abbey"'s theme music. (Ecstatic tweets abounded.) Lauren delivered on the message with perfectly-tailored tweet suits that looked ripe for a walk in the English countryside and overtly luxurious gowns rendered in black and gold -- including one spectacular shrug composed of gold-tipped black feathers.