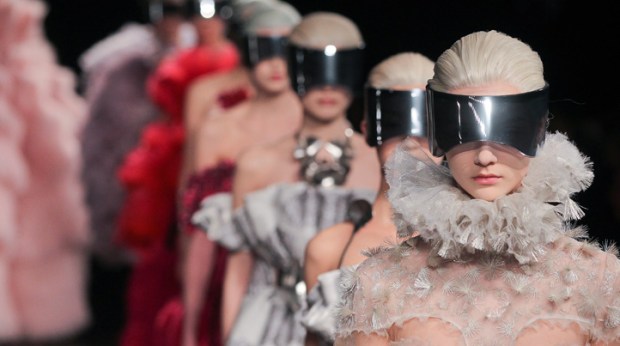 Getty Images
On the runway at Alexander McQueen's Fall 2012 show.
For the Alexander McQueen Fall 2012 collection in Paris, Sarah Burton created a futuristic look including visors and gravity-defying footwear.
The combination of the visors and the towering shoes (composed of a silhouette that leveraged some impressive physics to get the models many inches off the ground without an actual heel) had a decidedly forward-thinking vibe, though that was tempered by the models' powdered wigs, cinched-waist silhouettes, and luxurious fur trimming. The whole effect was almost like a futuristic take on Marie Antoinette's salon, though with some dazzling, voluminous silhouettes thrown in. In classic McQueen fashion, the look is unlikely anything the fashion community has seen before.