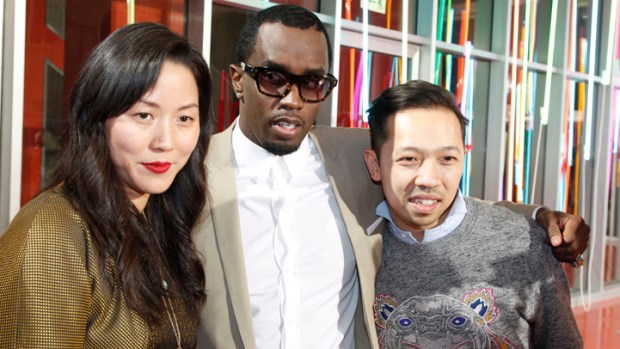 Getty Images
Diddy poses with Carol Lim and Humberto Leon at Kenzo.
The shows at Paris Fashion Week have a habit of drawing some of the world's biggest stars to the shows' front rows, and Sunday night's Kenzo show certainly brought a flashbulb-friendly face: Sean "Diddy" Combs.
The star also attended the Givenchy show with other A-listers like Kanye West before making an appearance at Kenzo's Fall 2012 show, where he sat front row next to Robyn and even chatted it up with the Tribune's Suzy Menkes. The show, as it happens, marked the sophomore effort from Opening Ceremony's Humberto Leon and Carol Lim (pictured here with Diddy), who took over creative direction at the label starting for Spring 2012. Considering Opening Ceremony's ballooning influence in New York and throughout the States, it's likely that Kenzo will see a similar surge as the duo continues to create strong collections for the brand (not to mention attracting some serious front row star wattage).