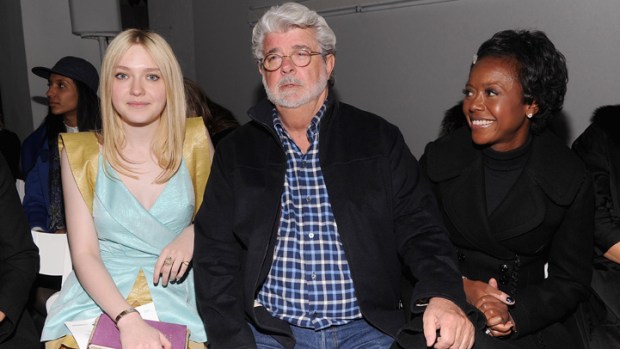 Getty Images
Dakota Fanning, George Lucas, and Lucas' wife, Mellody Hobson, attend Rodarte's Fall 2012 fashion show.
Every Fashion Week, there are some surprise faces on the front row. There was that season when Salman Rushdie popped up on the front row at Phillip Lim, then the moment last season when Beyonce crashed the tail end of the J.Crew presentation (in the best way). This season, the award for most surprising front row appearance likely goes to director-producer George Lucas, who popped up on the front row at Rodarte on Tuesday, seated right next to Dakota Fanning.
Apparently, he told folks at the show that he's actually a big fan of the Mulleavys, leading more than a few to speculate that they might do some more costume design work in the future. Even better, the show reunited Lucas with his former "Star Wars" star, Natalie Portman, who also attended the show.