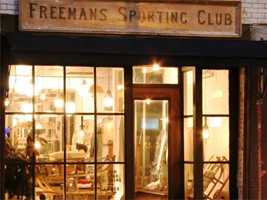 Freemans Sporting Club
Freemans Sporting club signed a lease on a second location on Bleecker Street back in January, and now we hear the west village outpost is set to open next week.
Freemans' first outpost on Rivington Street (pictured, just steps away from the more-famous Freemans restaurant) stocks a myriad of dashing goods -- from owner Taavo Somer's menswear line to Brooks bike saddles to apothecary goods from Mason Pearson, D.R. Harris, and more. When we spoke to the Rivington store's manager, he stressed that the new store on Bleecker (near Christopher) will be similar, and that eventually, there would be a "coffee outlet," but not for at least another month. Sounds like the store will indeed be opening next week, most likely Wednesday.