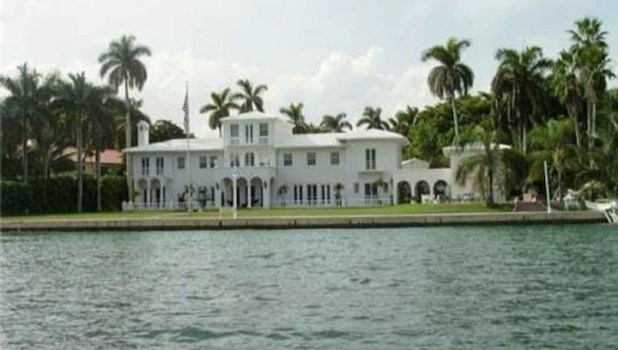 Zillow
The Neoclassical 1925 Walter DeGarmo home in Miami, Florida.
There's a preservation war going down in Miami right now, upsetting Miami Beach Design Review Board members and "Real Housewives Of Miami" star Lisa Hochstein and her plastic surgeon husband Lenny, reports
Curbed
.
The Hochsteins plan to raze an iconic, Neoclassical 1925 Walter DeGarmo home to build their dream house on the property, while the city is trying to stop this.
A recent meeting with the Hochsteins and the board ended with little resolution and a decision will supposedly be made in March.After the meeting, Lisa took to Twitter, saying, "It's our home , we. Bought it , how in the world should it be ANYONE'S concern what we do with it? , how does it affect anyone ? Nuts ." and "This minority group needs a hobby." The home, noted for its beauty and class, has been called "The House That Boobs Built," due to Mr. Hochstein's profession.
The Hochsteins bought the waterfront home (without seeing it first) last year in a foreclosure proceeding for $7.6 million, but quickly decided, after having an engineer inspect it, that it was too dilapidated to remodel. They then submitted plans to the City of Miami to demolish the home with the hope of building a 20,000-square-foot home in its place, complete with six bedrooms, seven bathrooms, a game room, and wine cellar. Miami is not having it.
It is yet to be seen if Lisa's angry tweets will make a difference in their case. I'm guessing when you're waging war against the City of Miami, it's going to take more than that to come out first.
So, what do you think? Do you think the Hochsteins have the right to demolish the historic home?