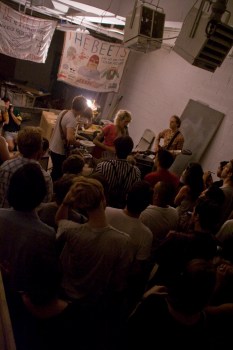 Dale W. Eisinger
Cassie Ramone fronts The Babies at Psychedelic Summer 2010, one of the band's first shows.
Brooklyn's garage-poppers The Babies are following their excellent 2011 Shrimper Records debut LP this month. The new record, Cry Along With The Babies, drops Jan. 10 on New Images, the label run by Real Estate guitarist Matthew Mondanile.
The Babies, helmed by Vivian Girls' strummer Cassie Ramone and Woods Family Creeps vet Kevin Morby, shared the first look at Cry Along... earlier this week. While new The Babies songs live come off as not only led by Morby, but also as raucous as ever, this woozy guitar-centered piece dials the intensity down and splits the vocal 50/50. The cracking charm of Ramone's voice is traded out here for something a little more precise and there are none of Justin Sullivan's cracking drums to speak of.
Check it out:
The Babies - Trouble by New Images