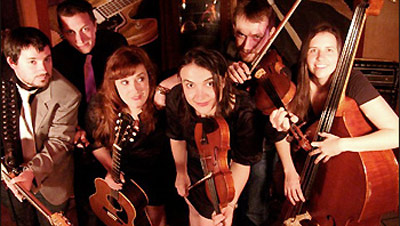 The Sweetback Sisters
Who: The first time we heard the Sweetback Sisters, they were covering the Loretta Lynn song, "Family Tree," about a woman who confronts her nemesis, the other woman who's stolen away her husband and the father of her kids. The gorgeous girl-on-girl harmonies and mournful fiddle were pure honky-tonk, and they're the trademark of this Brooklyn-based outfit that recalls the postwar country-western sounds of Kitty Wells and Lynn herself. But what sets the Sweetback Sisters apart is how they layer such a wholesome sound over frequently twisted lyrics.
Their new album, Looking for a Fight, comes out May 31 (Signature Sounds), and combines covers of choice classics by the likes of Patsy Cline with seven originals just waiting to be cranked at your backyard barbecue. The Sisters have been around for a few years, but with honky-tonk harmonies being newly au courant thanks to groups like the Secret Sisters, this may be their time.
Download this: The album's title track "Looking for a Fight" mp3