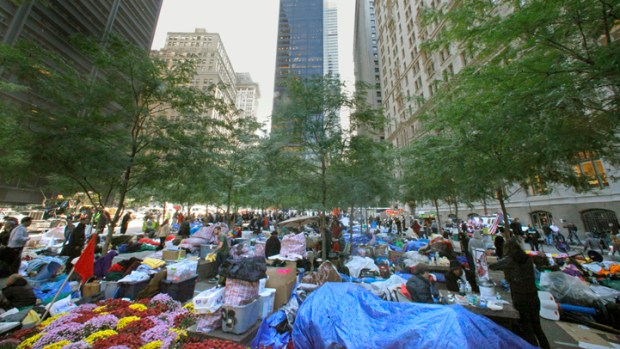 AP
Hundreds participating in the Occupy Wall Street protest continue to camp in Lower Manhattan's Zuccotti Park on Oct. 5, 2011.
Ever-reclusive musical artist and beloved singer/songwriter Jeff Mangum made a surprise appearance last night at the ongoing Occupy Wall Street protest, performing an impromptu solo set of songs.
Playing Neutral Milk Hotel standouts such as "Holland, 1945," "Two-Headed Boy, Part 2," "In the Aeroplane Over the Sea," "Comely," and "The King of Carrot Flowers Part 1," as well as a cover of the Minutemen's "Themselves," Mangum encouraged the gathered crowed telling them, "You guys have done a beautiful ----ig thing."
Check out video of the Mangum's intimate Occupy Wall Street show.