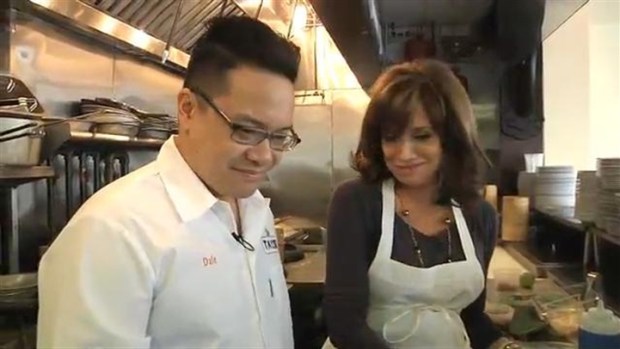 Chef Dale Talde with Sara Gore in his kitchen.
Fusion restaurants can be touch and go. While it may sound like a good idea to mix diner food with Indonesian cuisine, amazingly, it doesn't always work. However, fusion restaurants do offer us New Yorkers with some truly adventurous cuisine, and it seems to be a trend thats hanging around for a little while. So, while I wouldn't recommend trying the Mexican sashimi pierogies, here are some fusion restaurants I would recommend.
1)
Natsumi
(Japanese/Italian): If you're going to be hitting the theater district, maybe try something a little different before the show. Using olive oil, balsamic vinegar, and sushi, chef Konagaya isn't afraid to bring the big boot to the islands.
2)
Public
(Australian/Indian/Asian): While in the cramped side streets Nolita, there are plenty of fancy places to eat. However, most of them probably don't have Australian cuisine mixed with Indian spices. Brad Farmerie got his culinary training in London, but decided to go even further abroad when putting together his menu. If you know a place that serves a better cut of New Zealand venison, then you, my friend, are a seasoned New York diner.
3)
Talde
(Asian-American): Are you a fan of
Top Chef
? Looking for something to eat? Watch out for Dale Talde's unique take on Asian fusion. Bringing pretzel pork to chive dumplings and bacon to pad thai, Talde doesn't mind bringing a little fusion flavor to Park Slope.
4)
Ugly Kitchen
(Korean/Argentinian): You have to give the guys at Ugly Kitchen credit for picking that name. Despite their opinions, the decor does not detract from the menu. If you like your dumplings fried and your rib-eye ugly, then you'll be right at home in this East Village eatery. Also, the restaurant transitions into a lounge in the evening, so you get to hang out after indulging in the globetrotting menu to sample the cocktails.